Mosaic Central Vietnam private tour (6D5N)
Mosaic Central Vietnam private tour (6D5N)
Day 1: airport arrival - Hoi An (L)
12:00 arrival in Da Nang, pick up from Da Nang airport to hotel in Hoi An. Have lunch. Relax.
14:00 visit Hoi An ancient town, a UNESCO Heritage used to be a port for foreign traders around the world. You will visit Japanese Covered Bridge, Fujian Assembly Hall, Tan Ky Old House. All the stops will show you the East-Meets-West history of Hoi An. After that, take a look at Hoi An famous garments industry to see how silk made from silkworm and cocoon
18:00 dinner inside the ancient town
19:00 leisure time to discover Hoi An with beautiful lanterns at night
Mosaic Central Vietnam private tour (6D5N)
Day 2: Hoi An - Da Nang city tour – Hoi An (B, L)
8:00 we will pick you up from your hotel heading to Da Nang, the booming city of Vietnam
8:30 visit Marble mountain, Stone Carving village
9:30 sightseeing of Da Nang city. It is considered the most livable city of Vietnam or "City of Bridges" with many iconic bridges crossing Han river. The government of Da Nang takes Singapore as an example to follow.
10:30 keep continue along the coastal road full of luxury hotel and resorts to Linh Ung pagoda where stands the Lady Buddha looking after for the whole city. Here you can have a panoramic view of Tourane - former name of Da Nang used during the French colonial time
12:00 lunch time with Da Nang speciality - frog noodle
13:00 visit Cham museum which shows artifacts of Champa Kingdom. Cham people is a Hindu society a thousand year ago stretching all over Central Vietnam.
14:00 back to hotel in Hoi An. On the way you can see the Dragon Bridge, a new symbol of Da Nang city.
Mosaic Central Vietnam private tour (6D5N)
Day 3: Hoi An – Hue city tour – Hue (B, L)
7:00 we will pick you up from your hotel in Hoi An and go to Hue city - the Imperical capital of Vietnam from 1802 – 1945. Hue was awarded UNESCO World Cultural Heritage in 1993. En route photo-stops includes: Red beach- where first American ground troop landed Vietnam in 1965, Hai Van pass, Lang Co beach with beautiful landscapes
10:30 arrive Hue, check in hotel
11:00 have lunch at an iconic traditional Hue restaurant
12:00 after lunch, you will visit Hue citadel, tombs of emperor Khai Dinh and emperor Minh Mang. Then you will visit Thien Mu pagoda, the first pagoda was built by founder of the Nguyen dynasty
16:30 take a boat trip from Thien Mu pagoda back to hotel
18:00 dinner, leisure time
Mosaic Central Vietnam private tour (6D5N)
Day 4: Hue – DMZ – Dong Ha (B, L)
8:00 we will pick you up from your hotel going to Dong Ha.
9:30 arrive at Dong Ha, then going West along Highway 9 to visit Highway 9 National Cemetery where more than 10.000 NVA soldiers rest in peace labeled as 'unknown soldier', the Rockpile - the American observation post for Communist infiltration, Ho Chi Minh trail – supply route of North Vietnamese for Vietcong in South Vietnam, and Khe Sanh Combat Base – a place holds the battle for American reputation during Vietnam war
12:00 go back to Dong Ha for lunch. You will have Banh Cuon (rice paper roll with pork and vegetable) for your lunch.
13:00 go to 17th parallel, Hien Luong bridge/Ben Hai river right at the middle of the DMZ, the former border between North and South. Then turn right to the toward the ocean to visit Vinh Moc tunnel – a real testament for Vietnamese determination fighting against America.
16:00 go back to your hotel in Dong Ha, have dinner, leisure time
Mosaic Central Vietnam private tour (6D5N)
Day 5: Dong Ha – Phong Nha cave, Paradise cave – Phong Nha (B, L)
7:30 we will pick you up from your hotel and go to Phong Nha – Ke Bang national park which boasts world largest cave, a UNESCO Natural Heritage thanks for its famous caves, karst formations and biodiversity
10:00 arrive Phong Nha village, we will embark on a boat to visit Phong Nha cave – a unique cave with underground river
12:00 back to Phong Nha village for lunch
13:00 go to Paradise cave (Thien Duong cave)– the longest cave (31 km) in Phong Nha– Ke Bang national park which has lots of amazing stalactites and stalacmites
Mosaic Central Vietnam private tour (6D5N)
Day 6: Phong Nha - transfer to airport/train station at Dong Hoi, Dong Ha, Hue or Da Nang (B)
Transfer from your hotel to airport/train station for Hanoi, Ho Chi Minh city, ... Tour ends.
INCLUDES:
All meals listed (B for breakfast, L for lunch)
English speaking private guide
Private air-con car in good condition
All hotel accommodation (from 3 stars to 4 stars)
All entrance fees listed
Boat trip on Perfume river in Hue and Son river in Phong Nha – Ke Bang national park
EXCLUDES:
Things not above mentioned
Notes: If you wish to have domestic flight ticket included, we can buy it for you. If not, we can offer you car transfer back to Da Nang airport
CANCELLATION:
More than 7 days: no charge
From 3 days to 7 days: 50% of the tour price
Less than 3 days: 100% of the tour price
TOUR PRICE: 799 USD/group of 2 persons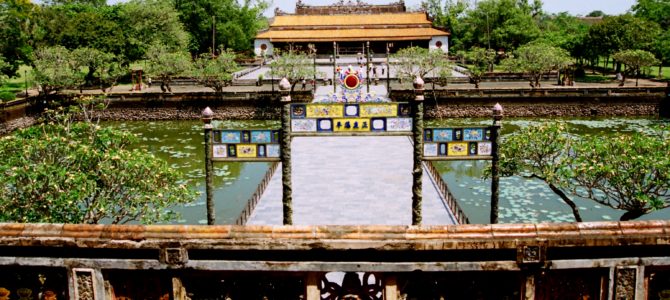 Hue Citadel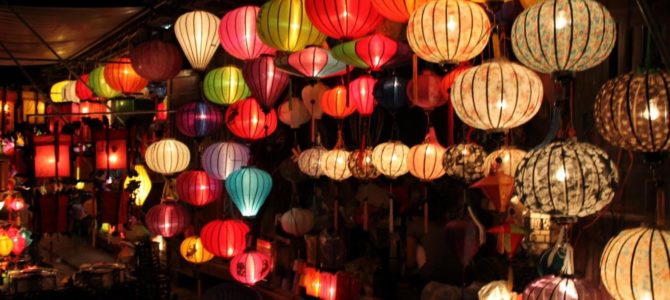 Hoi An lanterns
Marble mountain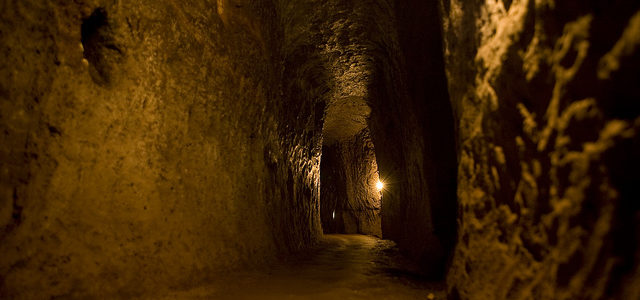 Vinh Moc tunnel
Dragon bridge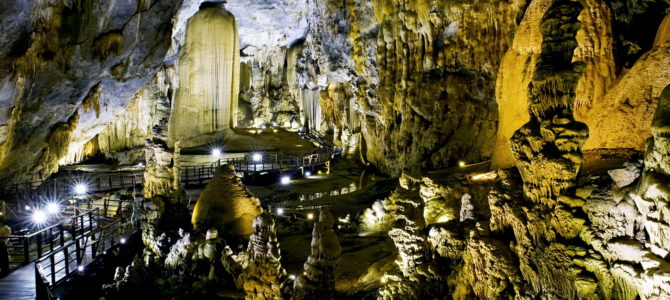 Paradise Cave